I'm a bit behind in posting this. Just been busy, sick (almost over it!), and etc., but here you go…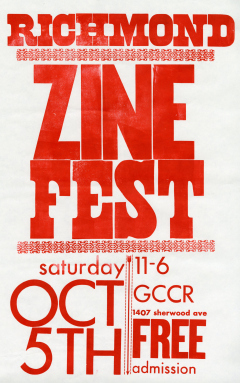 The Richmond Zine Fest is this Saturday October 5 (2013) from 11 – 6 at the GCCR. I REALLY liked the last time I exhbited, so I'm looking forward to doing it again. I also like that Lamplighter will be back (ginger drink!) and that they have an artist alley section this year. Also, lots of peers, friends, etc. will be exhibiting, so it should be one helluva show.
Hope you all can make it out. And just like last time, with this being a Zine show, we'll be slashing prices on almost EVERYTHING. While it may not be marked, we will be giving deals!