It's with excitement and pleasure that we announce the B+F Tour to promote Gregory Benton's latest creative endeavor.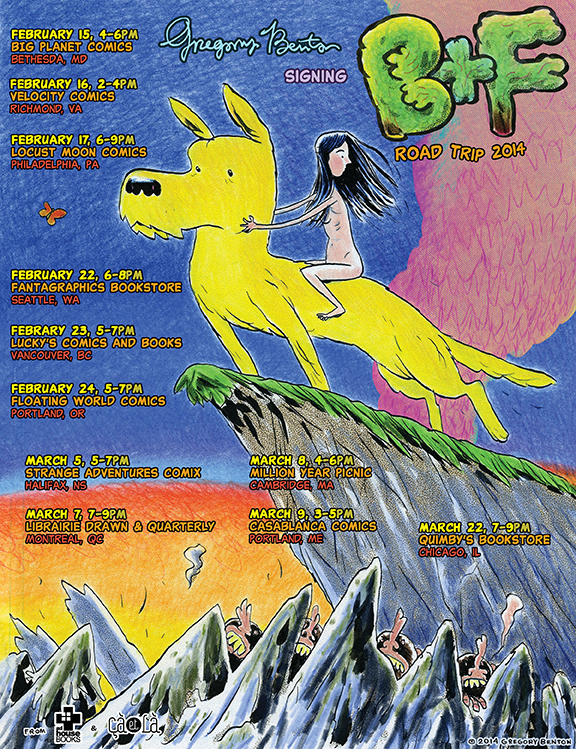 "B+F," Gregory Benton's MoCCA Award of Excellence-winning fable, explores an otherworldly forest with a woman and a dog as they encounter its denizens, both benevolent and malicious. A wordless meditation on goodwill, hostility, and isolation.
We really hope you can make it out to one of these stops.
Washington DC | February 15, 4pm – 6pm
Big Planet Comics Bethesda
Richmond, VA | February 16, 2pm – 4pm
Velocity Comics
Philadelphia, PA | February 17, 6pm – 9pm
Locust Moon Comics
Seattle, WA | February 22, 6pm – 8pm
Fantagraphics Bookstore
Vancouver, BC | February 23, 5pm – 7pm
Lucky's
Portland, OR | February 24, 5pm – 7pm
Floating World
Halifax, NS  | March 5, 5pm – 7pm
Strange Adventures
Montreal, QC | March 7, 7pm – 9pm
Librairie Drawn & Quarterly
Cambridge, MA | March 8, 4pm – 6pm
Million Year Picnic
Portland, ME | March 9, 3pm – 5pm
Casablanca Comics
Chicago, IL | March 22, 7pm – 9pm
Quimby's Bookstore