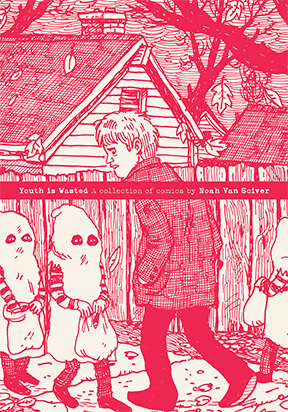 Attention: Due to a distributor's error, YOUTH IS WASTED will not be appearing within the April Previews catalog as it should have. However, we are still printing it on time and we need to get copies sold. So, if you can help spread the "virtual" word, we would appreciate it! You can still order from your local comic shop using the code below, or from any online source you might tend to use. Thank you.
Youth Is Wasted
by Noah Van Sciver.
Published by AdHouse Books
Youth Is Wasted collects several of Noah Van Sciver's most outstanding short stories from his critically acclaimed, award nominated comic book series Blammo as well as various anthology submissions.
Noah's previous work was Ignatz nominated and featured in Best American Comics 2011.
"…alternately absurd and absorbing. All told in Van Sciver's vivid, expressive, neo-Crumb style."
– The Onion A.V. Club
details:
112 1C pages
7″ x 10″ SC
$14.95 US funds
ISBN 978-1-935233-27-5
Shipping June 2014
Diamond Order Code: FEB14 8208