Monday, June 15th, 2015
Time has finally come today… or soon.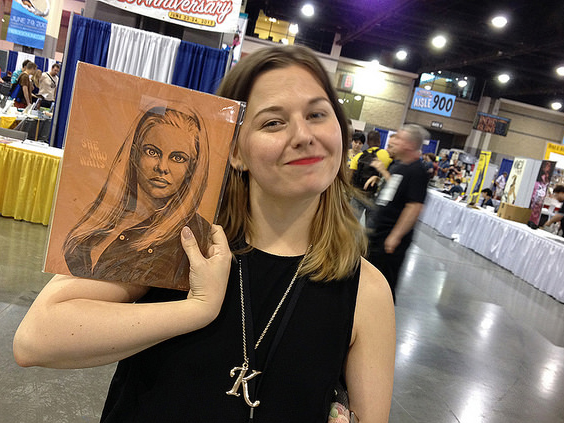 HeroesCon is just around the corner, and our pinks could not be more tickled (Katie Skelly shown above from last year's show). Their deats:
June 19-21
Charlotte, NC
Our deats:
• Table AA-1018 within the borders of Indie Island, natch.
• Kathryn Immonen & Stuart Immonen will be there slinging some RORK. (Have you seen their dedications?)
• I'm sure Jim Rugg will have a new mini, zine, or maniphesto to debut.
• Sophie Goldstein will make her first trip there and have The Oven and other wonderful things.
• Gregory Benton returns in a puff of smoke!
• Joey Weiser will be swimmin' with some fishes!
• Our pal J Chris Campbell might have a new DosFlecky Apparel?
• If I didn't list you. I love you. I'm just old, and have a bad memory!
I'm pretty stoked to be moderating the Immonen's panel on Friday at 5:30 in room 207CD.
(We're gonna get indy on your asses. Or something.)
I hope you can make it to the show. Our books are like children. We birth them into existence. I've been birthing for 13 years. The QUALITY of this Spring's birth is insane. The Oven. Pope Hats #4. Russian Olive to Red King. I'll put those three against your three any day. Yes, I'm a proud Pappa.