This November finds Rafael Grampá releasing his full color debut sequential work… MESMO DELIVERY.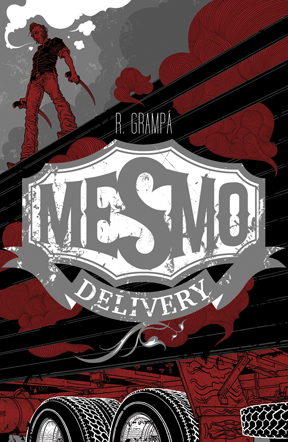 The story is one of mystery and action, as Rufo, an ex boxer, must deliver the goods while promising to NEVER open or inspect his cargo. Mayhem ensues as the precious cargo becomes the goal of others. Wizard calls it Convoy meets The Twilight Zone.
Rafael Grampá is the Eisner award-winning (5 Anthology) illustrator and comic creator from Brazil. Here are a few things people are saying about MESMO:
"ANNNND Grampa's MESMO DELIVERY is maybe the best single comic I've read since McCarthy's SOLO" – Matt Fraction
" Rafael Grampa's MESMO DELIVERY is a tone poem of violence and horror, beautifully drawn. Buy it." – Kevin Church
"Exquisitely written and drawn in a highly detailed unique style with a sophisticated but appropriately simplistic color approach. I loved this. Track it down. You won't be disappointed." – JH Williams III
"Bloody, violent, filthy and beautiful, this is the kind of story Quentin Tarantino wants to tell you when he's not feeling sheepish." – Patrick Godfrey, Brick Weekly
"Visually he may be the most accomplished new cartoonist of the past two or three years. Best of all, he's no slouch as a storyteller, either." – Sean Collins, All Too Flat
details:
2C cover
56 4C pages
7″ x 10″ SC
$12.50 US funds
ISBN 978-8-5600180-3-1
Shipping November 2008
Diamond Order Code: SEP08 3684

Download a PDF preview
You can preorder this project through Diamond's September Previews catalog, which can be found in your local comic shop on 8/27/08. AdHouse items may also be available via Last Gasp. We suggest you support your local comic shop or Last Gasp, but if you go the Amazon route, here's a link.