Archive for January, 2010
Tuesday, January 26th, 2010
The title pretty much says it all.
Tuesday, January 5th, 2010
It is with great excitement that I announce the AFRODISIAC Southern Tour!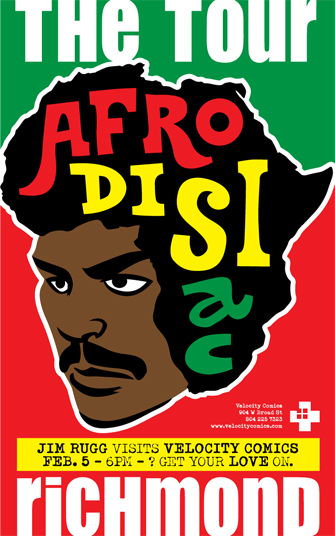 Here's the details:
Jim Rugg and Chris Pitzer hit the road to talk about their latest creation: AFRODISIAC. Each stop will include a signing, talking and LOVE! Plan your Valentine gift giving and pick up an autographed copy of the book!
Feb. 5th
6pm – 9pm
Velocity Comics
Richmond, VA
www.velocitycomics.com
Feb. 6th
6pm – 9pm
Chapel Hill Comics
Chapel Hill, NC
www.chapelhillcomics.com
Feb. 7th
3pm – 6pm
Heroes Aren't Hard to Find
Charlotte, NC
www.heroesonline.com
Keep your fingers crossed that the books arrive in time!