3×4
by Scott Morse, Lou Romano, Don Shank, Nate Wragg. Published by Red Window and distributed by AdHouse Books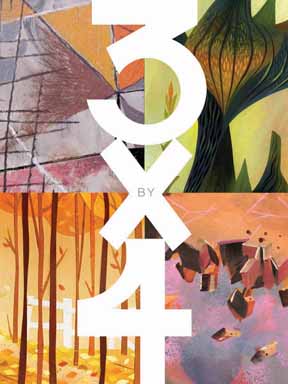 The creative team behind the instant-sell-out art books THE ANCIENT BOOK OF MYTH AND WAR and SEX AND SCIENCE are at it again, this time with a whole new slant on modern design!  3X4 is a unique collection of paintings built around the simple aesthetic of the numbers 3 and 4. Be it shape, line, texture, or color, this collection dares to boldly add a new perspective to modern art. These four artists, Morse, Romano, Shank, and Wragg, collectively work for 3 of the top animation studios in the world (Pixar, Laika, and Dreamworks Animation), making the promise of 3X4 a strong one.  This is one book your coffee table was meant to hold at the ready, a sturdy "board book" style object d'art!
details:
4C cover
16 4C boardbook pages
9″ x 12″ HC
$14.95 US funds
ISBN 978-0-9774715-5-3
Shipping July 2010
Diamond order code: MAY10 0721
linkage:  Scott Morse, Lou Romano, Don Shank,  Nate Wragg
+++
If this book acts anything like their previous effort (The Ancient Book of Sex and Science) it will be a very quick sell-out. So, for those interested, better to purchase sooner than later. I'll put a PDF preview up once we have one.
I thought I'd go ahead and announce this today, just in case any of Scott's fans might be able to talk to him at the Calgary Entertainment Expo. That's this weekend. Also, Jim Rugg will be attending SPACE and bunches of others are at Stumptown. Me? I'm taking a breather.