My normal solicitation mode is to just "dump" the details of the book along with links, images, etc. and allow each customer to make their informed decision as to whether this is something they might like, and thus, maybe order. Well, with this one, I feel I need to do some editorial:
"Buy. This. Book."
Simple as that. Here's the reason. It's THAT good. But here's the problem. It's bloody big. So, if you've been loving the AdHouse for our almost nine years. If you (mostly) trust our taste of what we publish. If you like to be in on the latest voice of comic making, you really should order a copy of Duncan the Wonder Dog from your local retailer. We won't be printing a lot of these, and given the size, we can't promise we'll go back to press. Adam is a genius, and I believe you will love his work.
OK, the above mentioned details: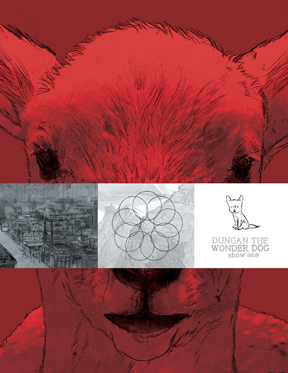 Duncan the Wonder Dog
by Adam Hines.
Published by AdHouse Books
What if animals could talk? Would some of them form a militant group in reaction to how humans treat them? Would humans treat them different? Come explore this dense tome of an alternate universe where the lavish renderings recall Dave McKean. 2009 Xeric winning Duncan the Wonder Dog WILL be one of the most talked about books of 2010.
details:
4C cover
400 pages
8.5″ x 11″ SC
$24.95 US funds
ISBN 978-0-9770304-9-1
Shipping September 2010
Diamond order code: JUL10 0729
Thanks. Also, here's some pages we uploaded on flickr: