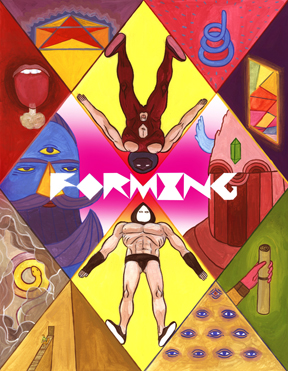 Forming
by Jesse Moynihan.
Published by Nobrow Press
Distributed by AdHouse Books
Forming is a super-mystical epic in which Jesse Moynihan details the spawning of worlds, and the trajectory of consciousness on Earth. Volume 1 follows the trials and tribulations of primeval gods and demi-gods as they vie for control of primitive Earth's resources.
details:
4C cover
112 4C pages
9 " x 12 "HC
$29.95 US funds
ISBN 978-1-907704-13-0
Shipping July 2011
Diamond order code: MAY11 0784