AdHouse Books will be traveling to Brooklyn on November 9th to participate in Comic Arts Brooklyn.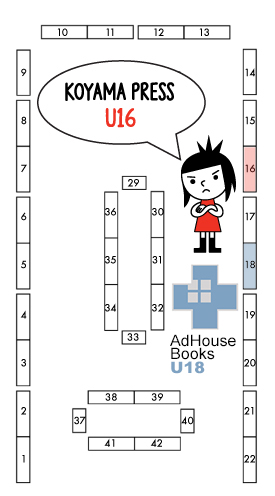 (Image borrowed and altered from Koyama's Tumblr post!)
For those not familiar, this is the show that rose up out of the ashes of the Brooklyn Comic and Graphics Fest. BCGF was always a monster (quality) of a show, so I expect no less from CAB. Per the image above we are still in the same upstairs room, but have moved across to the other wall to be a Koyama/DQ sammich. #yummy
Details:
Like Koyama Press, AdHouse Books is headed to Comic Arts Brooklyn on November 9. However, we are only debuting one new book! (fingers crossed) B+F by Gregory Benton. (Also, pre-AdHouser Katie Skelly will be at table D33, so check out her Operation Margarine.)
SIGNING SCHEDULE
11AM-7PM  Gregory Benton
11AM-7PM  Chris Pitzer
COMIC ARTS BROOKLYN (CAB)
9 November 2013 | At Mt. Carmel Church, Brooklyn, NY | FREE
Hope you can make it.