I like Jim Rugg. I like the comics that Jim Rugg and Brian Maruca produce. So, when it came time to bring Street Angel back to print earlier this year, I thought it was a chance to create the edition we would all want.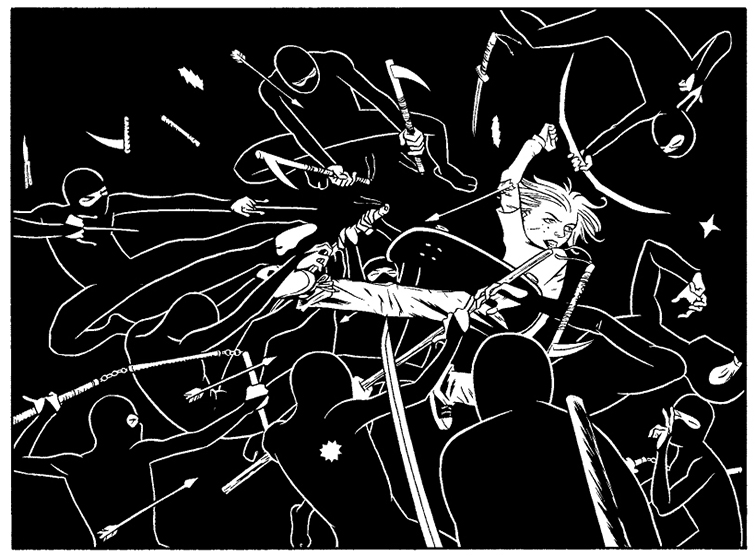 My first big question that had to be answered was how many to print. I mean, the comics had been out there, two printings of the SLG edition had been out there. It's a great unknown. At least for me. So, you get the quotes, you take a guess, and you press the button. We ended up doing 2k. And with SA roughly coming out in July, that amount has lasted 6 months.
Based on the above adoration, I felt it was necessary to do a second printing. (I consider some AdHouse titles to be the "canon" for us. Skyscrapers, Duncan, Afrodisiac… books that are good enough that they should always, hopefully, be in print.) I reached out to the creative team, and while they were interested in reprinting, they wanted to "spitball" some changes.
It should be printed on pink paper.
Now, for me, this was funny. Why? Because as near as I could tell, that idea came from Tom Scioli while he and Jim were driving to HeroesCon. If you follow Tom, you'll understand his suggestion. (When he makes print editions of his online comics, he prints them on flourescent paper. To him, the brightness of the paper emulates the computer screen.) And while I dug the idea, I struggled with the concept. Every time I have reprinted in the past, it was essentially just that… a reprinting. To drastically change a title meant it would be a New Edition. I was confused.
I reached out to people who I respect in the industry, and their responses varied from "YES! You should do it!" to "No way. As a publisher, you need to nip this in the bud." (OK, I might have paraphrased that a bit.)
As you can guess, I came around to the team's decision to change it up. Why? Because we can. We should always be striving to make the best work possible.
Look for the Street Angel New Edition to arrive sometime in the new year… printed in all it's pink & purple glory. It's in the December Diamond Previews (shipping in February)… Order number DEC14 1024.
The remaining BW versions will probably be gone, or close to gone by the time you read this. We still have a few of the Limited Slipcase Editions, if that tickles your fancy.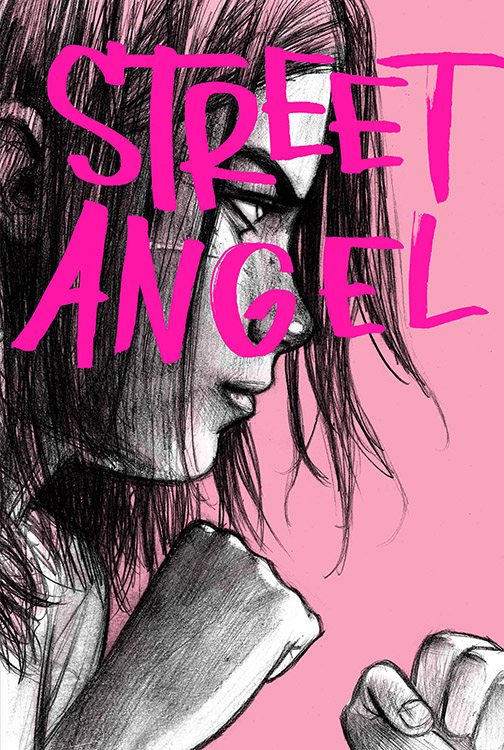 Street Angel by Brian Maruca & Jim Rugg.
Published by AdHouse Books
Harry Potter, Bruce Wayne, Annie, and Oliver Twist can go #&©% themselves! There's a new orphan in town.
Homeless teenager, Jesse "Street Angel" Sanchez cuts school and uses her skateboard and kung-fu action to fight ninja gangbangers, mad scientists, cops, time-traveling pirates, J-horror cliches, an evil version of her future self, ancient gods, rednecks, hunger…
Funny, violent, irreverent – everything you love in comic books (except sex). The creators of Afrodisiac present the Princess of Poverty — Street Angel!
2nd edtion details:
176 PC (pink & purple) pages
6 " x 9 " HC
$19.95 US funds
ISBN 978-1-935233-32-9
Shipping January 2015
Diamond Order Code: DEC14 1024