I honestly can't recall if we've produced a Case Study for ANY AdHouse publication in the past. I doubt it. So, look at this. We're doing something NEW for each and everyone of you…
When Luke Howard, the creator of Talk Dirty to Me, and I discussed the debut of his graphic novel, we ended up picking May, to coincide with his appearance at TCAF.
Using the Diamond Previews catalog information, I noticed that the volume soliciting Talk Dirty would drop in your local comic shop on February 24th. Since the subject matter of the book is phone sex, I had the idea to do a Valentines mailing as an announcement. (Love = Sex & Sex = Love, right?)
As this idea went further and further along, I thought we should have some fun with it as well. And by that, I mean use some direct marketing techniques to see if we can make a bigger splash.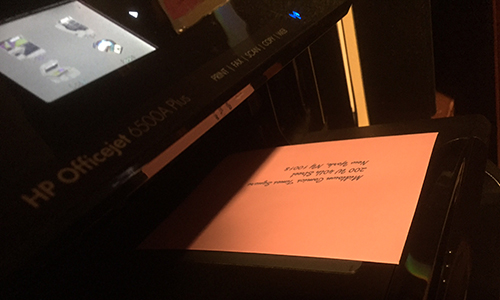 The first technique was to use a handwritten font on the envelope. Granted, I could have actually handwritten each envelope, but my handwriting isn't as good as a font. We picked a font that was legible, and a color that could have been someone's pen ink. (I actually did hand write some envelopes… late additions and what not.)
Instead of saying it came direct from AdHouse, we teased and used the Valentine theme of saying Your "Secret Admirer"…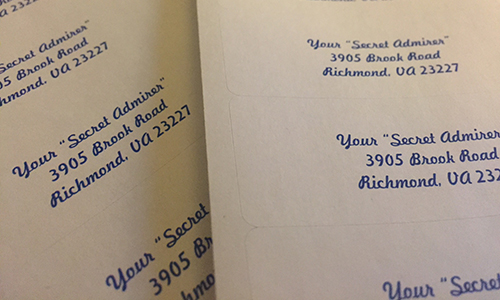 We also felt the stamp would be a good touch, so we stopped by our local USPS to pick up some Valentine stamps. We almost purchased them online, but when we saw it would cost $1.85 to have the stamps shipped to us, we hesitated. Not sure why. We pay for shipping other things, but paying to ship items that we would use to ship items, seemed odd. (This way to the madness…)
So, we have the "shell" prepared, so then it was time for good ol' Luke to come up with a nice "pun-y" type card. I think he knocked it out of the park: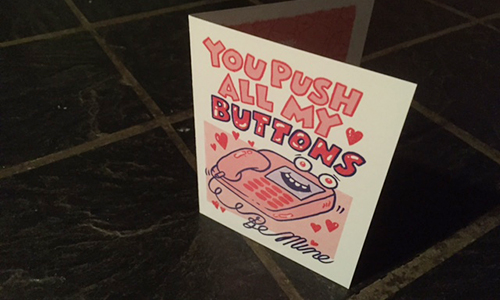 Back in the day, the number of comic shops that pay attention to "alternative" "indy" "whatever" type of comics usually was sited at 300. I think that's pushing it now days, but who knows. I usually end up doing 30, since that's what one of those sticker label sheets holds. However, this was a SEX mailing, so I thought the number of cards that needed to be created should be 69!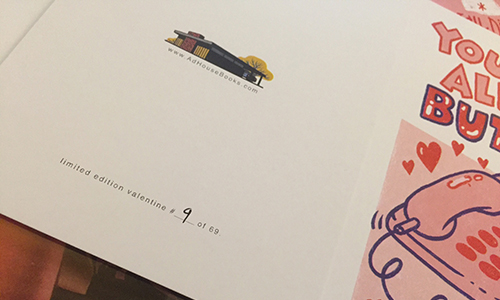 My folding cards … #UsingAHardcoverAsATable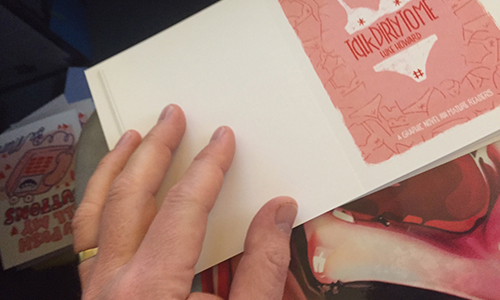 And once said and done, I dropped the cards into the local USPS on Monday February 8th… hoping they would arrive by Valentine's Day.
Right now, I think we're mailing roughly 50+ cards. A true "case study" would probably have more concrete info and results, but who are we fooling? It's hard to tell if this stuff works. Hell, just look at all this social stuff. Do clicks = sales? Yes? No? Both?
(Update: I had roughly four cards come back to me due to bad addresses. Keep your lists CLEAN, people! Of the 50+ cards sent, only one person has acknowledged it. Huh.)
Anyway, just wanted to share. I thought this was fun, and am looking forward to helping Luke get this out for you all to read. If you're a bit more curious about the book, you can check out this preview, too.
If you're interested in obtaining a copy, you can have your local comic shop order one using the following Diamond order code: MAR16 0970 or you can advance order via Amazon, or if you're going to TCAF, buy one from Luke!