Just some stuffs…
Due to some preplanned commitments that we couldn't get out of… we missed exhibiting at last weekend's Richmond Zine Fest. We were sad. However, we still made time to swing by for an hour and see some of the people we just saw the weekend before at SPX.. as well as the new people we'd never met before. It was a cool show. Lots of DIY vibe and lots of creativity. For instance, while perusing the FREEBIE table, some guy asked if I liked mopeds. I said… "sure, I guess." And then the girl with him showed me a print she had done of a Vespa and an owl. Well, I LOVE owls, so I asked how much… $5. Sold! So, you see how it could be a cool show. I spent the most money with good ol' Dylan from Sparkplug. He traveled the farthest in my mind, so I wanted to support his trip, as well as pick up some cool stuff that I hadn't had a chance to get yet. Unfortunately, because of said earlier obligation, this was the only time I got to see Dylan all weekend. Dylan, I'm sorry. But… he said I could make it up if I talked up one of his new comics.. so here you go: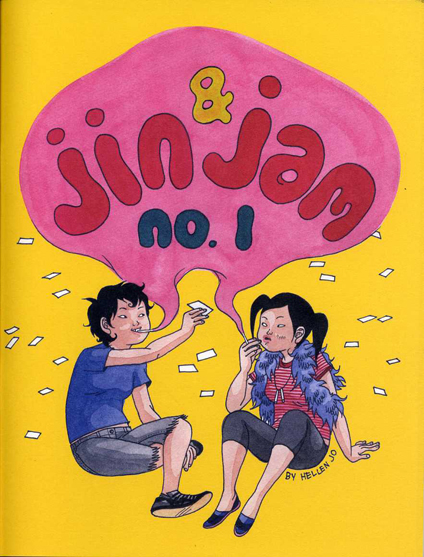 Jin & Jam #1 by Hellen Jo. Published by Sparkplug Comic Books.
I feel like I've seen Hellen's work before, but I can't recall where. This really is a good comic. Retailing for $5, you feel the heft of it once you pick it up. I dig the first/last page color on the interior pages, which reminds me of some imported manga. The basic story is about Jin and Jam, two young girls living in the otherworldly scene of San Jose? I'm guessing it's San Jose, since the cop has a SJPD helmet at one point. The "normalcy" of their world is offset by fights with a conjoined twin and mirages of fishes. I'm sure there's meanings and messages in some of these pages, but honestly, I love the ink. Hellen can draw like nobody's biz. If you have a love of ink, you should do yourself a favor and search this comic out.
+++
Comixology is a pretty cool site. I love their clean design and interesting takes on how to improve the bizz of comics. They were interested in talking to me at SPX, so we did that awkward dance. (Disclaimer: After the last interview I did a while back, I tend to not want to listen to myself.)
KidRobot took some neat pics of their signing with Mr. Double P. Go checkee to see how the lower CAs roll.
Wow. Just found this old post from some 6 years ago. Those were the days! Speaking of old posts… here's an old site I built to promote some of my personal work. Heck, it's even hosted on AOL! (Sorry for the obx-graphics that appear behind my content. Guess that ADDS to the age!)
We're currently working out the details of what we hope will be one kickbutt November event. Stay tuned!