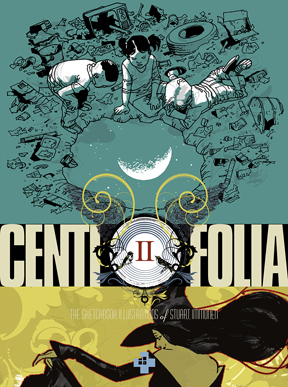 Centifolia 2 by Stuart Immonen.
Published by AdHouse Books
AdHouse Books is pleased to announce the upcoming publication of Centifolia V2 by Stuart Immonen.
Centifolia V2 marks Stuart Immonen's return to his eclectic collection of work! Continuing where V1 left off, we find even more sketches, concept designs, illustrations and comics. Best known for his mainstream superhero work, Stuart is a multi-faceted creator and this publication proves it. Again, 32 of the 128 pages are full color, and Stuart's attention to detail shows through in the publication's design.
But wait! There's more! AdHouse Books will also be bringing Centifolia V1 back in print! To help celebrate these two beautiful publications, there will even be a limited (100) slipcase edition created that includes a special S&N print and custom slipcase design.
Publisher Chris Pitzer responded, "I was very happy to be approached by Stuart to help make this happen. We've been con-buddies for a few years now, and I really love his work."
Centifolia V1, V2 and the limited slipcase will make their con debut at the 2011 Toronto Comics Art Festival that takes place May 7th & 8th.
Centifolia Volume 1 & 2
details:
96 1C pages & 32 4C pages
8″ x 10.75″ SC
$19.95 US funds
V1: ISBN 978-1-935233-13-8
V2: ISBN 978-1-935233-14-5
Shipping May 2011
AdHouse Books Exclusive
Download a PDF preview
Publisher's Page