Can you believe it's already SPX time again?
It is. And as such, Tom Scioli and I thought it would be cool to announce that AdHouse will be publishing American Barbarian.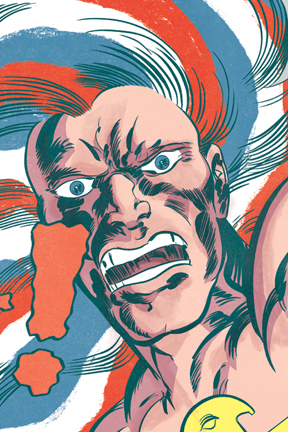 To celebrate, we'll be handing out little S&N prints of AmBarb with any AdHouse or Scioli purchase. But wait. There's more.
Here's the cool cats who will be hanging with us during the show. They're schedules are:
Ethan Rilly: All day Sunday
Jim Rugg: All day Saturday and Sunday (except when he's at FantaLand).
Lamar Abrams: All day Saturday and Sunday
Sterling Hundley: All day Sunday
Sadly Jay Stephens won't be able to make it to SPX this year due to personal reasons.
Oh… and yep, we'll be debuting good ol' Pope Hats #2 by Ethan Rilly. Please come by and talk to Ethan on Sunday. And I guess we'll be debuting Blue Collar / White Collar by Sterling Hundley. Again, Sterling will be there Sunday only.
Also, if you're interested in that uber-cool Nobrow or Koyama stuffage, be sure to get there early. Only so many to go around!
We're very excited to have our little "island" that we've been a part of for the past couple years. W39 – W41.
Thanks, y'all.