I told myself I wasn't going to do a post-MoCCA 2013 report… but that wouldn't be quite right.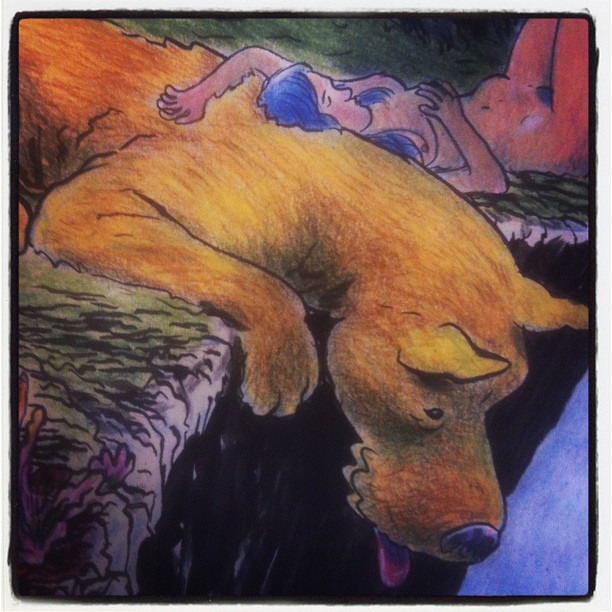 Why? Because it was a rebirth or sorts. Or why didn't I want to do one? Because I was sick as a dog. (Do dogs get sick?)
See, you can still tell I'm a bit out of it if I'm questioning things like that.
Anyway, here's some random thoughts…
The ChinaBus ride up was one of the most bizarre trips I have ever taken… and I've taken quite a few. If I would have been by myself, I probably would have curled into a fetal position and cried, but Neil (Out of Step Arts) Bramlette and Jared Callum were along for the ride, so I weathered on. If you see them, seriously…. ask them about this trip. (Coming back our bus driver actually left passengers at the Delaware House. He TOLD them 15 minutes. That's why I ate my pizza near the bus.)
So, yeah, taking the bus up the night before without ANY sleep might have not been the best of ideas, but dammit, I saved money. But I digress.
I guess I wanted to do this post because I wanted to thank everyone. The Society of Illustrators for stepping up and doing it right. Many nice new touches (curtains, gallery, volunteers), Neil for being my AdWingMan during the show. Boulet for being a Super Trooper for the fans… of which I am one. Annie for being Annie. Friends for sympathizing for my condition. Customers who dug what we do and showed the support by picking up some of our stuff. I honestly hope I don't make you sick.
Noirness: Boulet spent around 3 to 5 minutes doing a sketch for anyone who purchased the comic. That might not seem like a lot, but multiply that by 100 copies, and that is two full days of sketching. And each sketch was wonderful. Just go search on instagram or twitter.
Purchases: I am proud to say I was the first purchaser of new-comer Gregory Bentons "B+F". I think he's going to go places. 😉 Speaking of going… Going into the show, I knew I wanted Lisa Hanawalt's new one. I mean, I knew I wanted it before, but when Tom did that punk review, I just had to have it. She did a kick-ass sketch inside, too. Boobs and all. I also wanted Dash's new comic since, well, I spent many years at CC. I also got some surprises at the show, and even managed to miss some things, par the norm.
I like that the Society sent an email right after the show. That's a little touch that goes a long way in my book. Also, they'll be sending a survey at some point, which is a BIG thing in my book. Because we were all watching this show, and hoping it would be that good, I kept a running list of good things and bad things about the show. I'll tell them both, since I feel we have that type of relationship.
I don't really have that many pictures, since I wasn't feeling that well. I suggest checking the Out of Step Arts report when it goes live, since we were buds for the weekend. OK. I better get back to it. Love ya.