Hey Y'all.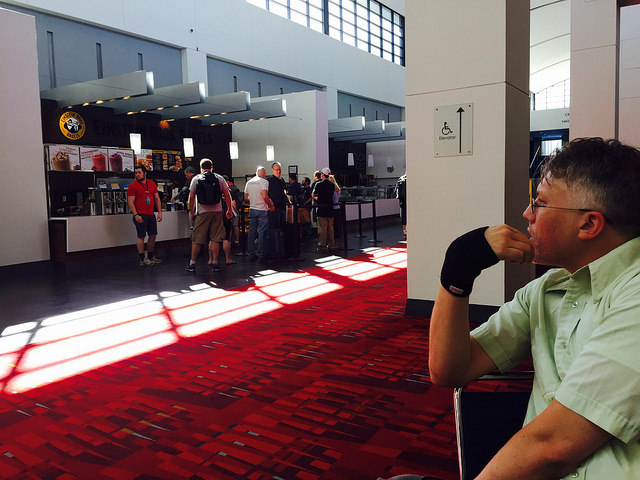 Just a friendly reminder that America's Favorite Comic Convention, Heroes Convention, happens June 17-19 in Charlotte, NC.
We'll be there at table 1218, sandwiched between the uber-talents of Mr. Jim Rugg and Mr. Ed Piskor.
The show has always held a sweet spot for me with it's mix of friends, dealers, talent and good times. It looks like I've been exhibiting since 2004! I attended as a fanboy before then. (I remember buying my first original Grendel piece of art there one year.)
This year, Luke Howard will be making the trip from Vermont in support of his newly released TALK DIRTY TO ME. He can be found right around the corner from us at table 1220, sharing with the another uber-talent, local RVA nice-guy Jared Cullum. (Check out Jared's painting if you get a chance. He's captured the Ad-Mobile in all it's glory!)
I had written the above before getting word from Luke that due to unforeseen circumstances, he won't actually be able to make it to Heroes this year. Kind of sad, since he was really looking forward to it. I told him not to worry. Sometimes stuff happens, y'know? Anyway, I'll have copies of TD2M, and Luke is (hopefully!) doing some HeroesCon exclusive bookplates! Stop by to see if they made it to the show! (Also, you should still check out Cullum's mind-blowing painting!)
Other new things we'll have at the table: Tarantula Sticker Pack, Procrastination Comics Zines #9? (A look back at some people/places/things in relation to comic books and RVA.), and of course, some weird.

I hope you can make it to the show. I'm really looking forward to it. This show is the one that feels the most like a family reunion that you WANT to attend. The creators, attendees, exhibitors and promoters are my comic family. And I cherish our time together. I typically shy away from politics under the AdHouse "roof", but with the events of this past weekend, it's tough not to become vocal. So…
Respect one another. And if so inclined, Love one another.